Clinical Presentation in Chronic Kidney Disease Patients on Regular Haemodialysis Attending in Tribhuvan University Teaching Hospital Emergency Services
Tirtha Man Shrestha

Department of General Practice and Emergency Medicine, Institute of Medicine, Maharajgunj Medical Campus, Tribhuvan University Teaching Hospital

Pratap Narayan Prasad

Department of General Practice and Emergency Medicine, Campus chief, Maharajgunj Medical Campus, Tribhuvan University, Nepal

Ram Prasad Neupane

Department of General Practice and Emergency Medicine, Maharajgunj Medical Campus, IOM, TU

Laxman Bhusal

Department of General Practice and Emergency Medicine, Maharajgunj Medical Campus, IOM, TU

Rajan Ghimire

Nick Simons Institute, Patan, Nepal
Abstract
Background: Chronic kidney disease is increasing day by day and so is condition of renal replacement therapy; mainly hemodialysis. Emergency visit of the patients under maintenance hemodialysis is frequent. The objective of the study is to study clinical parameters of these patients so that in future these deranged parameters can be focused during patient management and decrease their emergency visit.
Methods: A prospective cross sectional study was conducted in emergency services of Tribhuvan University Teaching Hospital from 1st May 2018 to 31st October 2018 among the adult chronic kidney disease patients under maintenance hemodialysis. Ethical approval was taken from Institutional review board, Institute of medicine, TribhuvanUniversity.Nonprobability sampling method was used. Total of 300 patients were enrolled in the study. Patients' age, sex, causes, laboratory parameter during emergency visit, need of emergency hemodialysis, and need of blood transfusion were studied.
Results: Out of total 300 patients, mean age was 45.64 years (S.D =17.15). 190 (63.3 %) were male and 110(36.70%) were female. 152(50.70%) of patients had hypertension. Diabetes and Glomerulonephritis both had equal prevalence of 63(21%). Mean hemoglobin was 6.52gm% (S.D = 1.93). Mean pH was 7.17 (S.D =0.154). Mean serum potassium and creatinine level were 5.77 mEq/L (S.D =0.76) and 1076.03 mmol/l (S.D =367.25) respectively. Area under the Receiver Operating Curve was 0.660 for potassium and 0.598 for serum creatinine.
Conclusions: Causes of chronic kidney disease, decreased hemoglobin level, increased serum creatinine and potassium level and metabolic acidosis are causes of frequent emergency room visit among CKD patients.  So these conditions need to be addressed to decrease emergency visit of these patients.
Keywords: chronic kidney disease; emergency presentation; mortality.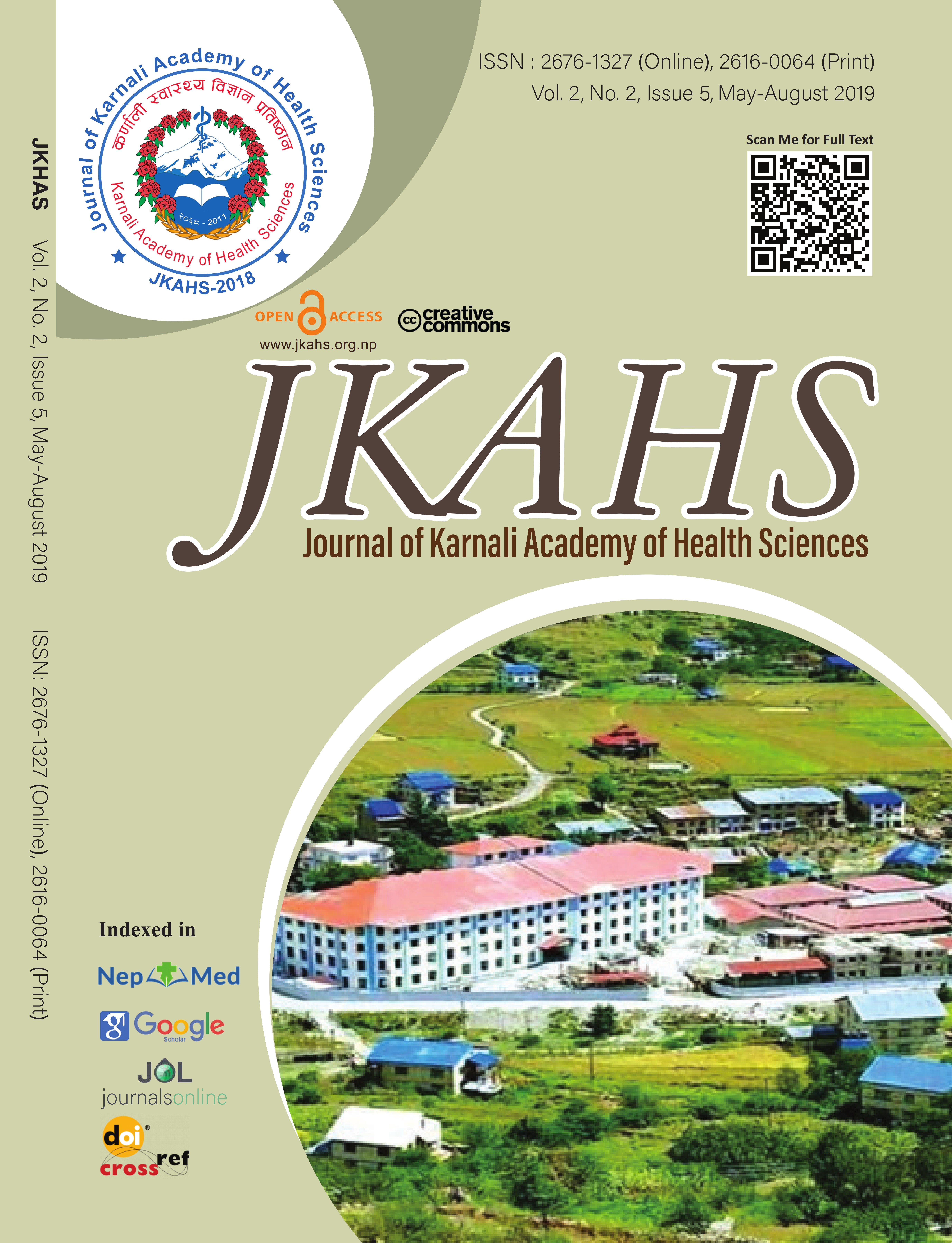 How to Cite
1.
Shrestha T, Prasad P, Neupane R, Bhusal L, Ghimire R. Clinical Presentation in Chronic Kidney Disease Patients on Regular Haemodialysis Attending in Tribhuvan University Teaching Hospital Emergency Services. JKAHS [Internet]. 1Aug.2019 [cited 22Feb.2020];2(2). Available from: https://www.jkahs.org.np/jkahs/index.php/jkahs/article/view/80
Section
Original Articles