Status of Perinatal Mortality in Karnali Academy of Health Sciences, Jumla Nepal
Namrata Sindan

Department of Paediatrics, Karnali Academy of Health Sciences, Jumla, Nepal

Sandeep Shrestha

Department of Paediatrics, Karnali Academy of Health Sciences, Jumla, Nepal

Bishnu Dutta Acharya

Department of Physiotherapy, Karnali Academy of Health Sciences, Jumla, Nepal

Purnima Rai

Department of Gynecology and Obstetrics, Karnali Academy of Health Sciences, Jumla, Nepal

Niranjana Kayastha

Department of Paediatrics, Karnali Academy of Health Sciences, Jumla, Nepal

Aadessh Bhandari

Department of Thyroid & Breast Surgery, The First Affiliated Hospital of Wenzhou Medical University, Wenzhou, Zhejiang 325000, PR China

Namita Sindan

Department of Gynecology and Obstetrics, Paropakar Maternity and Women's Hospital, Kathmandu, Nepal
Abstract
Introduction: Perinatal mortality rate is a sensitive indicator of the quality of obstetric and pediatric health services. It also helps us to evaluate the efficiency of health care provided by a particular hospital. The aim of this study was to evaluate the cause of perinatal death in a tertiary care medical centre, which may help to reduce the incidence of perinatal death and improve the quality of care.
Methods: The two-year retrospective study of perinatal deaths was done at Karnali Academy of Health Sciences (KAHS), Jumla from March 2017 to April 2019. Data was collected from monthly perinatal audit and annual mortality reviews. Registers in the maternity ward, sick Neonate Care Unit, and files of dead newborns kept in the record section of the hospital were studied and reviewed.
Results: A total of 1354 deliveries were conducted in the 24 months period at KAHS with a perinatal mortality rate of 36.08 per 1000 total birth and early neonatal death rate of 12.8 per 1000 live birth. The Perinatal mortality was higher in low birth weight and premature baby. The cause of stillbirth and early Neonatal death were identified. Most of the early neonatal death was due to Prematurity (41.17%) followed by Birth Asphyxia and Neonatal Sepsis.
Conclusion: Prematurity and its related complication were the most common cause of early neonatal death followed by birth Asphyxia and Neonatal Sepsis. There is a need to improve antenatal, early identification of high-risk pregnancy as well as Neonatal Intensive Care Unit (NICU) to further reduce deaths due to prematurity and birth asphyxia.
Keywords: Perinatal Mortality Rate; Early Neonatal Mortality Rate; Rural Areas; Jumla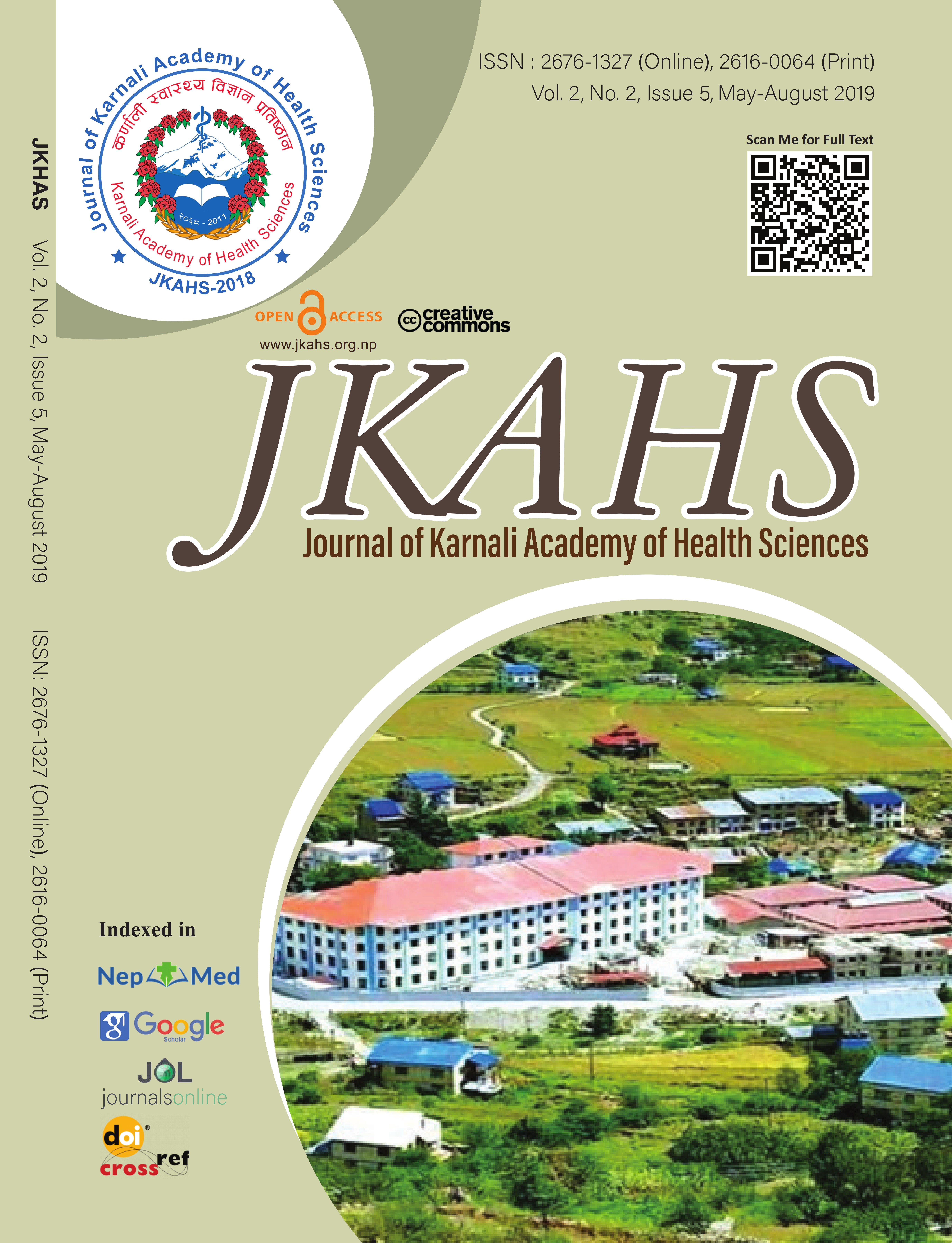 How to Cite
1.
Sindan N, Shrestha S, Acharya B, Rai P, Kayastha N, Bhandari A, Sindan N. Status of Perinatal Mortality in Karnali Academy of Health Sciences, Jumla Nepal. JKAHS [Internet]. 13Aug.2019 [cited 22Feb.2020];2(2). Available from: https://www.jkahs.org.np/jkahs/index.php/jkahs/article/view/Journal%20of%20Karnali%20Academy%20of%20Health%20Sciences%20%28JKAHS%29
Section
Original Articles