Factors Influencing Dietary Diversity of Pregnant Women Attending Antenatal Care in Western Regional Hospital, Nepal: A Cross-sectional Study
Nishant Lama

Assistant Professor, Karnali Academy of Health Sciences, Jumla, Nepal

Rajendra Lamichhane

Department of Public Health, Asian College for Advance Studies, Lalitpur, Nepal

Rajan Bhandari

Health and Nutrition Department, Save the Children, Nepal Country Office, Kathmandu, Nepal

Shreejana K.C.

Nursing Department, Charak Academy, Pokhara, Nepal

Gita Pun Bhandari

Department of Community Medicine and Public Health, Institute of Medicine, Kathmandu, Nepal

Deepak Sharma

Associate Professor, Karnali Academy of Health Sciences

Rajendra Raj Wagle

Vice Chancellor, Karnali Academy of Health Sciences, Jumla, Nepal
Abstract
Introduction: Diet during pregnancy is important to fulfill the nutritional demand of physiological changes as well as to create an environment for fetal development. In Nepal, meal diversity scores of mothers and children are low. The situation of dietary diversity among pregnant women was unknown in the Western Region of Nepal. Thus, this study was conducted to generate evidence regarding the status and determinants of dietary diversity among pregnant women.
Methods: It was a cross-sectional study. Systematic random sampling was done to select 282 pregnant women of third trimester attending antenatal care in Western Regional Hospital, Nepal. The semi-structured questionnaires, 24-hour recall tool, and Household Food Insecurity Access Scale were used to collect information from participants. Univariate, bivariate and multivariate analysis was done to assess the status, association as well as strength of association between study variables respectively.  
Results: The mean (±SD) Women's Dietary Diversity Score was 4.96 (±1.42). Pregnant women having education level < SLC compared to ≥ SLC were 74.7% less likely to have high dietary diversity to lowest dietary diversity (AOR: 0.253, CI: 0.103 – 0.620, p=0.003). Similarly, pregnant women having an unpaid occupation of husbands compared to paid were 74.5% less likely to have high dietary diversity to lowest dietary diversity (AOR: 0.255, CI: 0.074 – 0.876, p=0.030).
Conclusions: Consumption of medium dietary diversity was predominant among pregnant women. The education of pregnant women and the occupation of her husband were the two significantly associated factors with dietary diversity.
Keywords: ANC; Dietary diversity; Household Food Security; Nepal; Pregnant women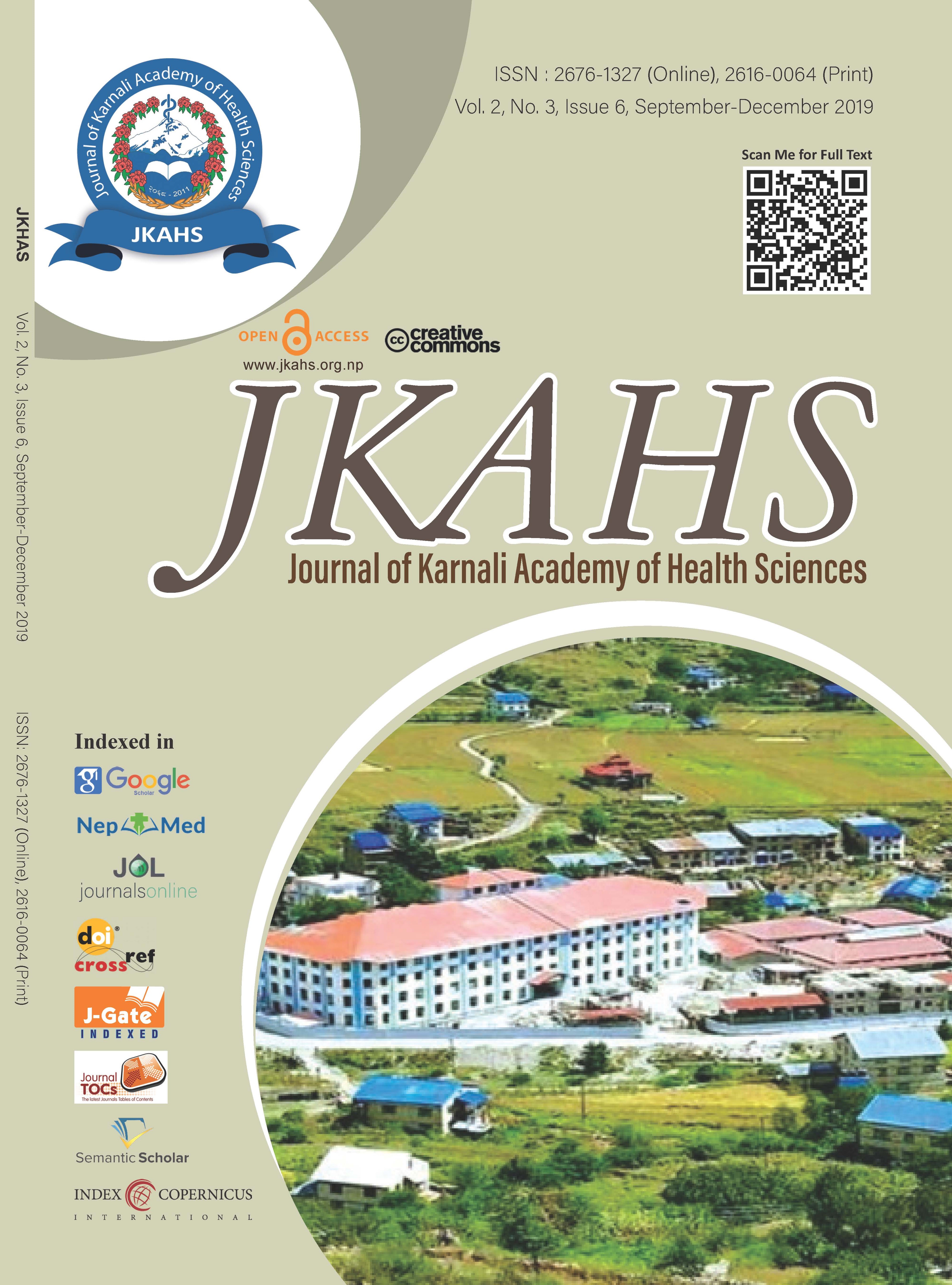 How to Cite
1.
Lama N, Lamichhane R, Bhandari R, K.C. S, Bhandari G, Sharma D, Wagle R. Factors Influencing Dietary Diversity of Pregnant Women Attending Antenatal Care in Western Regional Hospital, Nepal: A Cross-sectional Study. JKAHS [Internet]. 23Nov.2019 [cited 29Mar.2020];2(3):189-96. Available from: https://www.jkahs.org.np/jkahs/index.php/jkahs/article/view/87
Section
Original Articles
Copyright (c) 2019 Nishant Lama, Rajendra Lamichhane, Rajan Bhandari, Shreejana K.C., Gita Pun Bhandari, Rajendra Raj Wagle
This work is licensed under a Creative Commons Attribution 4.0 International License.