Bibliometric analysis of Community pharmacy research activities in Nepal over a period of 1992-2018
Sunil Shrestha

Nepal Cancer Hospital and Research Center

https://orcid.org/0000-0002-9174-7120

Resha Dangol

Nepal Health Research and Innovation Foundation

Deepa Shakya

Nepal Health Research and Innovation Foundation

Krisha Danekhu

Nepal Health Research and Innovation Foundation

Shailesh Sharma

Sharadha Institute of Health Science

Bhuvan KC

Monash University Malaysia

https://orcid.org/0000-0002-9135-962X
Abstract
Introduction: Community pharmacy services are an integral part of the healthcare system directly involved in providing safe and effective patient care services. Despite the beneficial role of the community pharmacist, limited research focusing on their roles and responsibilities have been conducted. Thus, a bibliometric study was carried out to give a bibliometric overview of publications on community pharmacy in Nepal.
Method: This is a bibliometric review of published literature of articles on community pharmacy in Nepal. The extensive literature search was carried out using PubMed, Google Scholar, NepJol as the sources of data. The community-based articles published from January 1, 1992, up to December 31, 2018, were retrieved. The keywords or medical subject headings (MeSH) terms, such as "Community Pharmacy", "Community Pharmacist", "Community Pharmacies", "Community Pharmaceutical Services", "Community Pharmaceutical Service", "Private Pharmacy" and "Retail Pharmacy" were used.  Nepal was entered as a country affiliation.
Result: A total of forty-seven articles were retrieved, of which 87.5% (N=47) were based on original research papers. The maximum number of an article published in a single year was 17.02% (The majority [8 (17.02%]) of articles were published in 2016. The average number of authors per article was 4.65 with a standard deviation of 2.33. These articles were published in 38 journals, of which 10 articles were published in the journal without the impact factor or Scimago Journal and Country Rank.
Conclusion: Scientific publications from community pharmacy settings are scant in Nepal. Hence, more analytical research work should be carried out to enhance the community pharmacy services and to promote the quality use of medicines in Nepalese society.
Keywords:  Community pharmacist, Community pharmacy, Community pharmacy services, Private pharmacy, Retail pharmacy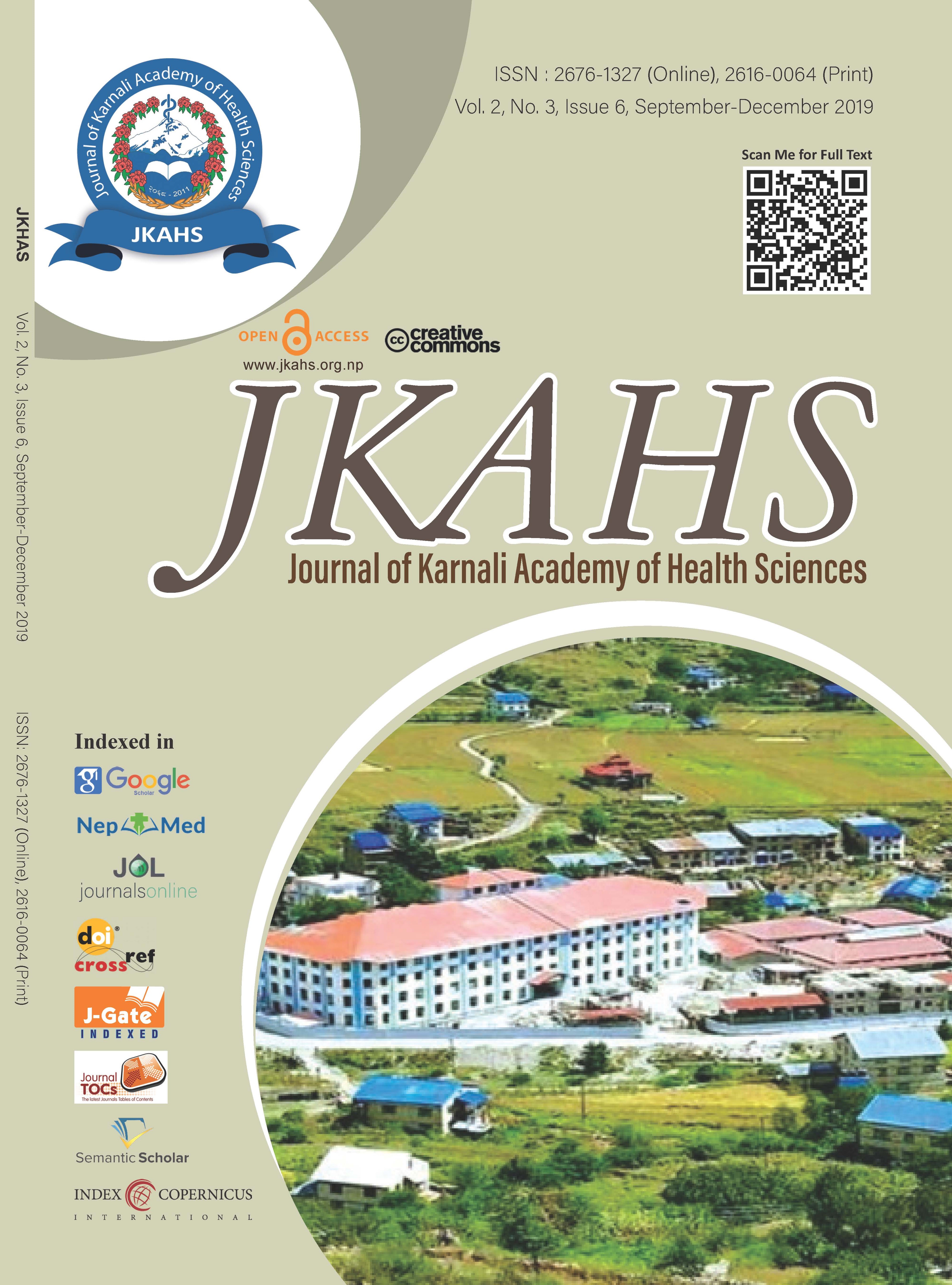 How to Cite
1.
Shrestha S, Dangol R, Shakya D, Danekhu K, Sharma S, KC B. Bibliometric analysis of Community pharmacy research activities in Nepal over a period of 1992-2018. JKAHS [Internet]. 3Dec.2019 [cited 29Mar.2020];2(3):243-9. Available from: https://www.jkahs.org.np/jkahs/index.php/jkahs/article/view/152
Copyright (c) 2019 Sunil Shrestha, Resha Dangol, Deepa Shakya, Krisha Danekhu, Shailesh Sharma, Bhuvan KC
This work is licensed under a Creative Commons Attribution 4.0 International License.